Originally Published in the Original Internist: September 2010
Formatting and Images Updated October 2010.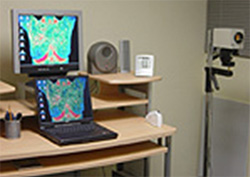 One out of every eight women will develop breast cancer during their lifetime impacting the lives of their families, friends and communities (1). While countless dollars continue to be spent on finding a cure, women are led to believe that early detection through mammography is their best option for beating the disease. Is this really all that can be done? Something is missing from this picture and desperately needs to be added if we are really going to create a world without breast cancer.
Mammography has been controversial and has come into question in recent years. In fact, the US guidelines for screening with mammography recently changed from annual examinations at age 40 to every other year beginning at age 50 (2). That means women under 50 currently do not have a viable method of screening for breast cancer and women over 50 will be screened less frequently. Women who develop cancer under age 50 tend to have more aggressive and more life threatening forms of the disease so it is imperative they have options for screening. For women over 50, the average sensitivity of mammography is 80-90% (3) which sounds great unless you are one in every 5-10 women whose cancer is missed. Whether or not you approve of mammography and believe in its usage is not the point. Even advocates of the technology admit that the status quo is not good enough.